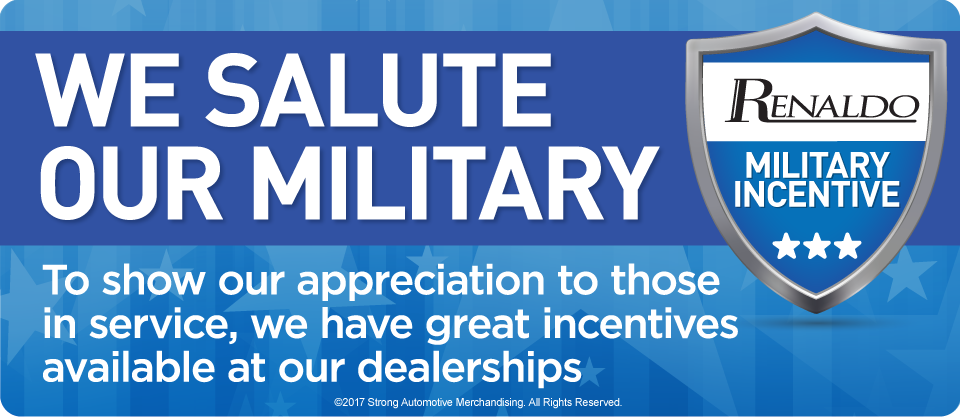 Military Appreciation Programs in Shelby, NC
You have sacrificed so much for our country, and now we would like to give something back to you to show our appreciation. When you come to Renaldo Auto Mall, we would love to provide military personnel with major savings on the purchase or lease of a new car, truck, or SUV for them or for their spouse. Our dealerships work with multiple brands, and we cater to different incentives for military savings. Many new Buicks and GMCs fall under the General Motors Military Discount where you can receive hundreds, if not thousands, in savings on your new car, truck or SUV. Kia offers $400 while Honda offers $500 towards the purchase of one of their vehicles in our new inventory. So, when you are back home and ready to purchase a new vehicle for you or your spouse, let us take care of you and provide you with savings to show our appreciation for all that you have done.
Automotive Military Savings Available For You!
At Renaldo Auto Mall, we want to give back to our military personnel by offering them savings towards the purchase or lease of a new car, truck, or SUV. Are you an active member of the United States Military or an Active Reservist? If you fit this description, you and your spouse could be eligible for savings on the purchase or lease of a new vehicle with our military appreciation program. Be sure to ask one of our friendly staff members for all of the details on the military savings for the particular manufacturer you're looking at. Also, check out our new inventory to see which vehicle on our lot you would like to take a look at today!
Find Out If You Qualify for Savings Today!
Looking to purchase or lease a brand-new Buick, Kia, Honda, or GMC soon? We would love to hear from you today and show you our appreciation by providing you major savings! If there are any questions about the military appreciation program, then give us a call at (704) 406-8100 or contact us online. When you have an idea of what you want to take a look at or still want more information, visit one of our convenient locations in Shelby, NC near Spartanburg, Greenville, Charlotte, and Asheville.